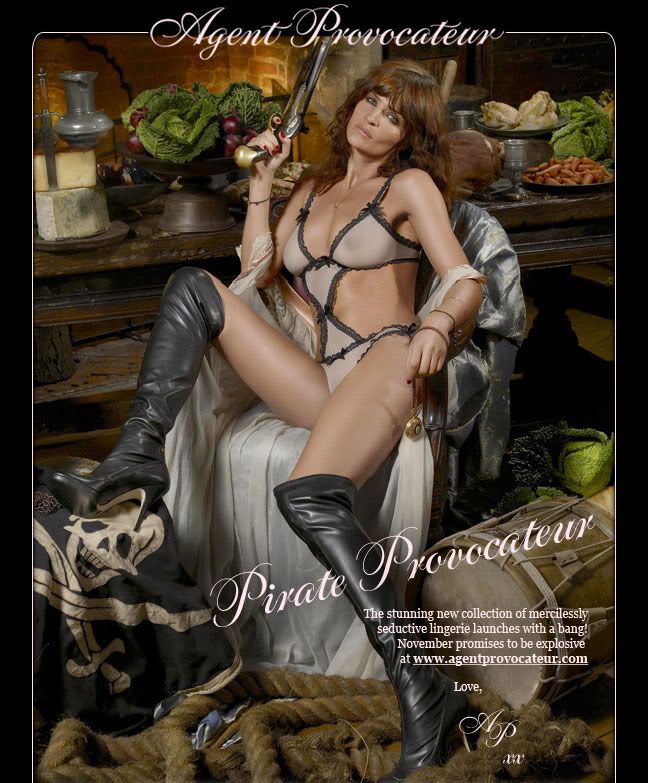 Agent Provocateur belongs to web culture. Since Kylie Minogue on a ride in 2006, the brand keeps on pushing the borders of sexyness and lust.

The brand now comes back with a fantastic "pirates" experience. The idea is quiet efficient : a mini-site and a film in which you have to make choices to continue the story. It does not go as far as Samsung for its "follow your instinct" campaign (using annotations on YouTube), but the direction is pretty well done.
I was wondering if this campaign was not "for male only", because so hot, because so catching for my poor eyes…so I googled and find that it was pretty well perceived by young women :


"The latest campaign, starring Helena Christenson changes

all that! Check out the link below and tell me that you don't want to suddenly abandon all thought of the credit crunch and take out a new credit card! I especially love the above piece, modelled oh so seductively by Ms Christenson…" The origins of Beauty



"

It features naughty pirates clad in sexy Agent Provocateur lingerie. Kate Moss is not the face of this campaign, instead, Helena Christensen is playing her "wicked games" for AP this season. The collection is beautiful, and as always, I want it all. I also really admire the way they market each campaign – it's more than just pretty pictures. They find great models and celebrities to be the face of their campaign, and AP always pushes the edge of technology."Miss "You really have to experience this

. According to

Telegraph

, "Pirate Queen Helena appears in a red lace basque, brandishing a dagger, and succeeds in seducing the captain of the ship who is unaware he is being robbed blind and facing a mutiny" – we totally agree that this is a "swashbuckling way to sell lingerie".

" Fash-eccentric
So a great online experience and recommendation to buy the products in social media discussions…It's what we call a 100% ROI ?